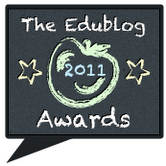 The Edublog Awards is a community based incentive started in 2004 in response to community concerns relating to how schools, districts and educational institutions were blocking access of learner and teacher blog sites for educational purposes.
The purpose of the Edublog awards is promote and demonstrate the educational values of these social media.




The best aspects include that it creates a fabulous resource for educators to use for ideas on how social media is used in different contexts, with a range of different learners

while creating an invaluable resource of the best-of-the-best on the web!
Last year, I found the
Castilleja School Library Website
while browsing the Edublog winners and it has become the inspiration for our new library website that we will hopefully launch after winter break.
I think the Castilleja site is everything a school library website should be- it is easy to use, nice to look at and features student reviews and engaging information while also promoting library programs. I've also found some of my favorite resources and blogs on the Edublog Awards Site including
Free Technology for Teachers
and the
Moodle Guide for Teachers
.
I'd like to use our blog to spotlight and nominate some of the sites, twitter feeds and other online resources we all use and would like to spotlight. The nominations period just opened last week- if you have any resources you think should be nominated please leave a comment on this post or
send me an email
. The categories are below. Please let me know by next week if there are any online sources you think should be included.
• Best individual blog
• Best individual tweeter
• Best group blog
• Best new blog
• Best class blog
• Best student blog
• Best ed tech / resource sharing blog
• Most influential blog post
• Best twitter hashtag
• Best teacher blog
• Best librarian / library blog
• Best School Administrator blog
• Best free web tool
• Best educational use of audio / video / visual
• Best educational wiki
• Best educational podcast
• Best open PD / unconference / webinar series
• Best educational use of a social network
• Lifetime achievement
This post was brought to you by HVLA Treasurer, Rachael Myers